Top 9 Best Barefoot Shoes – Top Picks
Before our modern civilization, our ancestors walked the earth barefoot. We then moved to hides and furs to protect us from the snow and rough terrain. Gradually, over the years, we transitioned into leather, cotton, and eventually rubber and plastics. Many modern shoes that big brands produce are under a lot of scrutinies for causing negative effects on our feet and health. 
Your feet are an amazing extension of your body made up of 33 joints, 26 bones, 200,000 nerves, and over 100 tendons, muscles, and ligaments. The imbalance of any of these parts of your foot can cause an imbalance throughout your body.
Barefoot shoes are designed to mimic the feel of walking barefoot. If you have suffered from Plantar Fascia, Morton's Foot, Bunions, posture, back, hip, or knee problems these could all stem from your foot health.
In our video today we will outline the benefits of minimalist footwear, as well as a few groups that are at the forefront of foot health.
What Are the Best Barefoot Shoes?
In recent years, there has been a growing trend toward minimalist shoes, or shoes that mimic the sensation of being barefoot. Proponents of this style of footwear argue that it is healthier for the feet and can even improve posture and form while running.
Barefoot shoes have a thin sole that allows the feet to flex and grip the ground and often have little or no padding or support.  Big Sole, extra cushion and special inserts are not always the answer. 
Check out the book Born To Run by Christopher McDougall where he studies hidden tribes, super athletes, and the health of the human foot. It might just change your mind about fashion over function. 
While there is still some room for debate on the subject, there is evidence to suggest that the best barefoot shoes can offer significant health benefits compared to normal shoes.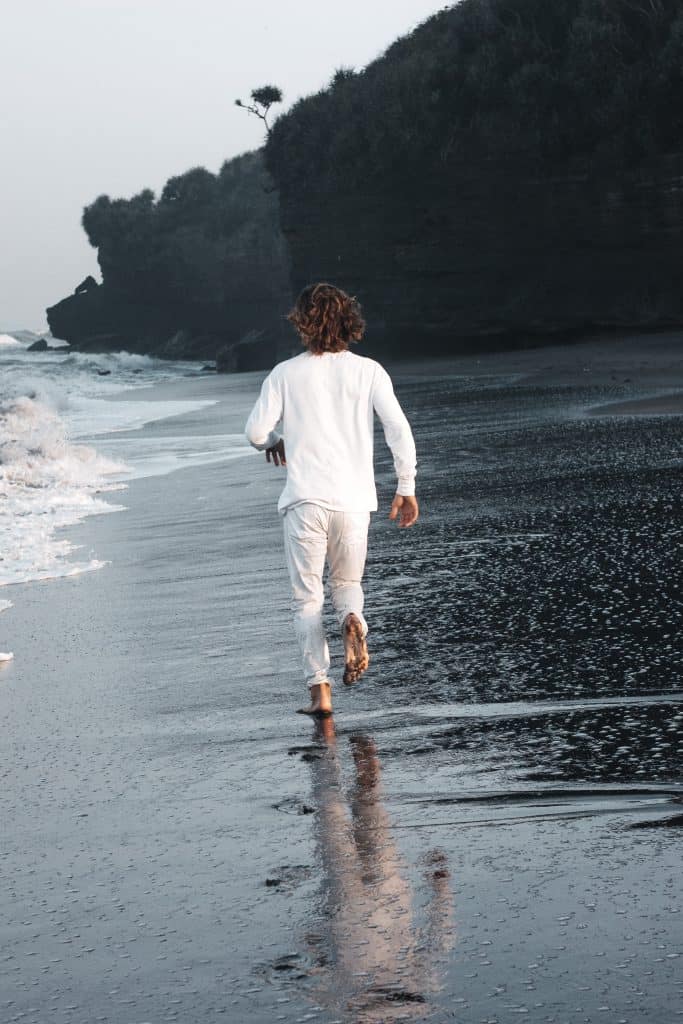 Studies have shown that barefoot shoes can help to strengthen the muscles in the feet and ankles, resulting in improved stability and reduced risk of injury. Ultimately, while more research is needed, there are several potential health benefits associated with barefoot shoes.
Here Are The Top 9 Barefoot Shoes That You Might Consider
Tolos barefoot shoes were founded within the hockey community. As players crunched their feet in hockey skates year after year, hockey players began to realize the issues that arise. Tolos quickly gained popularity among the hockey community.
These shoes are designed to closely mimic the feel of being barefoot, while still providing the protection needed for weight training and agility. They are made from a flexible, breathable material and have a wide toe box. Their design allows your feet to move naturally and provides good traction on various surfaces.
Tolos was founded in Denver, CO, and has been featured in numerous online articles. Tolos has been quickly gaining traction both at Division 1 and NHL levels. Our choice for the best barefoot shoe design and esthetic goes to Tolos.  
The Vivobarefoot is the best barefoot shoe for those who want options. From leisure to hiking boots to dress shoes, Vivobarefoot has it all. With its minimalist design, the shoes encourage you to use your muscles more, rather than relying on padding and support from the shoe itself.
This not only helps to tone your legs but can also lead to better postural alignment and reduced joint pain. Vivobarefoot has many great options for barefoot running shoes if you are into trail running.
Whether you're looking to improve your fitness or simply want to feel more comfortable during everyday activities, the healthy Vivo barefoot is the ideal choice. Just like other minimalist shoes, the Vivobarefeet shoes are also affordable.
Vivo arguably has the best barefoot running shoe. Their lightweight shoes are great for gym training and barefoot enthusiasts looking to wear barefoot shoes in all aspects of life.
The Vibram barefoot is the best barefoot shoe for those looking to spread their toes. Known as the five-finger shoes or the shoes that look like gloves on your feet, these are the shoes that everyone thinks of when you say "barefoot shoes".
A very popular shoe by the Vibram barefoot that everyone has good reviews for is the Vibram Five Fingers. It is just like the name implies – it has five spaces for your toes which would make you feel as if you are using your bare feet to walk.
If that's your look, people swear by the natural barefoot feel these shoes provide. Vibram is a great option for those looking to spread their toes.
Some brands, like Freet, are designed to provide maximum health benefits by mimicking the natural function of the foot. Freet shoes are made with a wide toe box and a flexible sole that allows the foot to move naturally and achieve its full range of motion. This helps to improve balance and coordination, while also reducing the risk of injury.
In addition, Freet shoes are made with breathable materials that keep the feet cool and dry, and they are also incredibly lightweight, making them perfect for walking or running.
Freet Sensor Outsole enables your feet to come alive as they receive and respond to stimuli from the ground. Freet shoes are a great option.
The healthy Xero shoe brand is the perfect way to stay healthy and stylish at the same time. Founded in Boulder, CO is known as a community of health activists. Xero has a variety of styles and colors to choose from, there's a Xero shoe for everyone. These shoes are made from healthy materials so you can feel good about wearing them.
Whether you're looking for a versatile barefoot trainer, a running sandal, or a casual sneaker, Xero shoes have you covered. If you are looking for your first barefoot shoe, a pair of affordable Xero sandals is a great place to start. Your feet will thank you!
These are great shoes for being active in the Flatirons or grabbing a casual meal on Pearl St.
Lems Primal Shoes are the epitome of uniqueness when it comes to style in all four seasons. Aside from their distinctively minimalist shoes, they offer a level of comfort and support that is gaining traction in the footwear industry.
Another Boulder, CO brand, Lem's shoes allow for natural movement and feature minimalist soles. They have great foot protection than other barefoot shoes and are a good choice if you want long-lasting stylish barefoot shoes.
If you're looking for a particular pair of shoes that are a bit more conventional shoes with barefoot shoe benefits, look no further than Lems Primal Shoes. These shoes range from 100-$190 and can be found online or in retail stores like REI.
Wildling shoes are designed with health and wellness in mind. The brand uses unique materials and construction techniques to create shoes that support healthy foot function.
The shoes have a wide toe box that allows the toes to spread out naturally, while the soft, flexible sole provides cushioning and support. Additionally, Wildling shoes are made with breathable materials to keep feet cool and dry.
The health benefits of Wildling don't stop at the feet. The brand's unique design also promotes healthy posture and alignment. By encouraging proper foot function, Wildling helps reduce stress on the joints and muscles, which can lead to pain relief throughout the body.
Wildling is worth checking out, they have a euro look and unique soles. Wildling could be a great investment for your feet.
Saguaro is a new brand of shoes that is quickly gaining popularity for its minimalist shoe. They have some of the best barefoot running shoes. Many people wearing barefoot shoes don't choose to run on firm ground. They prefer trail running and enjoy beach runners.
Saguaro shoes have a similar flare to the Vibram shoes in that many of their models have toe outlines. However, it seems the toe slots are a bit less pronounced and more natural looking.
Tadeevo Bliss shoes are made with high-quality materials and construction techniques, resulting in a shoe that is both comfortable and durable. It is a brand out of Poland that you can tell puts a lot of thought into its design. Their brand has stemmed from the group's interest in paleo diet natural running, minimalism, and evolutionary anthropology. 
Think of rock climbing shoes when thinking of Tadeevo Bliss. Unique minimalist yet functional design. This brand offers a wide variety of shoes that are perfect for any occasion, from barefoot water shoes to casual wear. It is an affordable option for those looking for a great barefoot shoe.
You May Also Like: What Is Biohacking?
Pick One Give Them A Try!
Whether you wear Nike or Jordan's or one of the options above. Shoes are an important part of your health. Hopefully, this sheds light on the potential benefits of minimalist shoes. Your body is an interconnected web of connections and if you study the ancient study of reflexology, much of that web has a direct connection to your feet. 
Don't let your foot pain get in the way of living a healthy lifestyle. Joining the barefoot movement and find yourself a pair of comfortable shoes